The Adams Family Tree House - Page 3
A "two tree" Treehouse on Legs
2007 Big changes since my last post. The tree house is now on legs. My girls were scared of the motion. I was concerned about 6 lag screws supporting all of that weight. Also we want to add on some features like monkey bars attached to the ground.
I bought four 6x6 recycled plastic landscape timbers from Menard's. They are 95 inches long and very heavy, maybe 160 pounds each. They were made in Canada. Menard's doesn't sell them any more. I was told the factory burned down. I used a posthole digger to plant these timbers 32 inches into the ground. No cement, they are heavy enough. The house is attached to the legs by a skirt of 2x8 lumber, large steel angle brackets underneath, 1/4 inch carriage bolts through the 2x4's and threaded rods through the posts. Galvanized plates were used on the corners for extra strength. Four 2x6 cross beams were added at the bottom to stiffen things up. The house is now completely disconnected from the trees.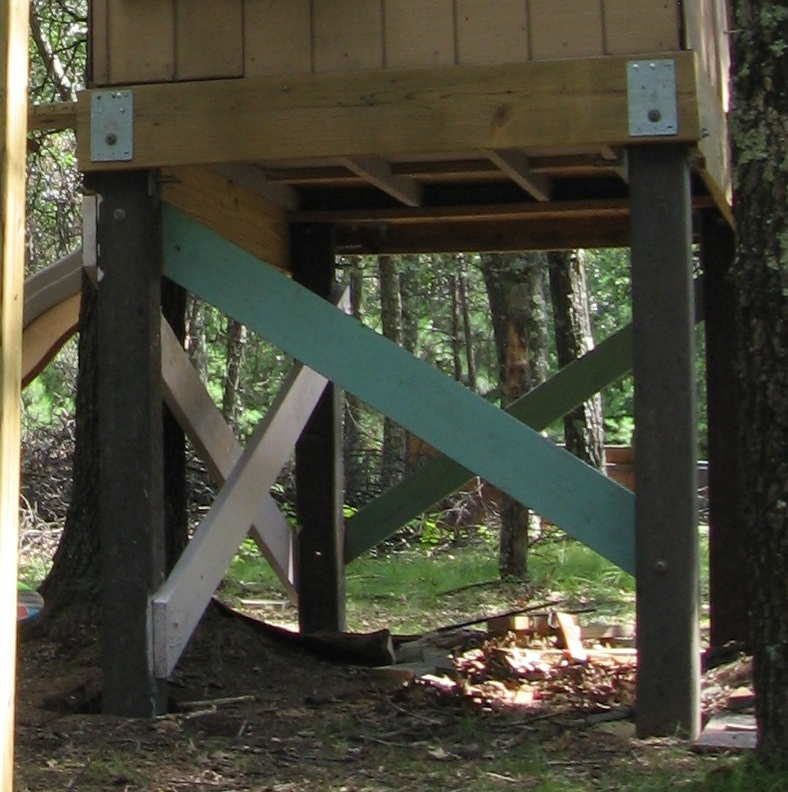 legs made of 6x6 plastic lumber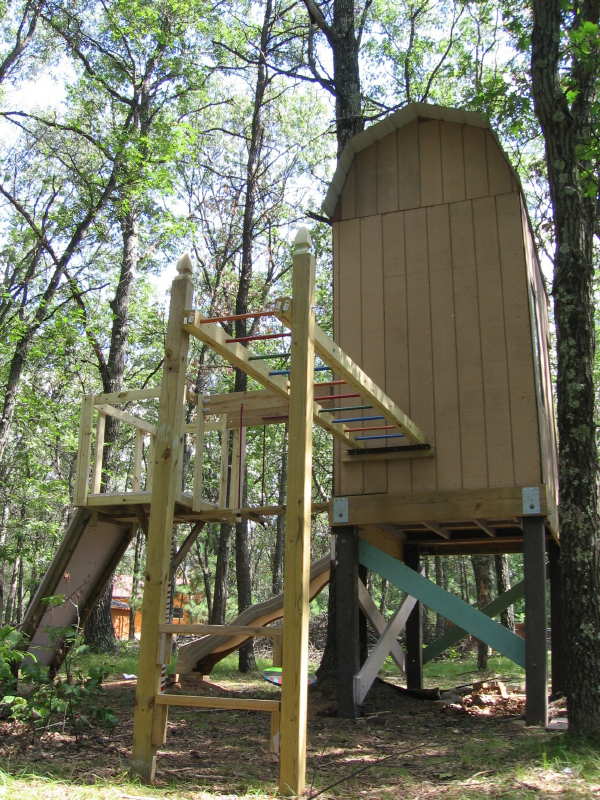 New monkey bars made from galvanized pipe and threaded rod.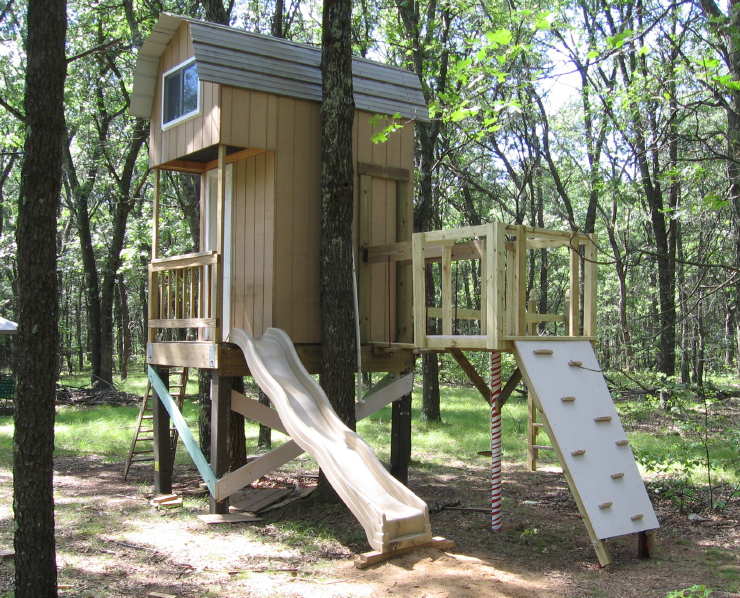 August 2007 More features just added. A back door, a lookout tower connected by a 2x6 bridge and a climbing wall. More windows, trim, paint, electricity, maybe a tire swing and other features coming soon.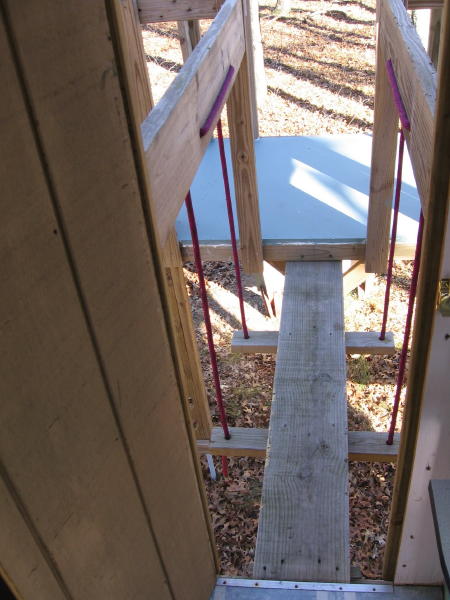 View of bridge from and "lookout tower" from back door. The red ropes are not supporting the Bridge.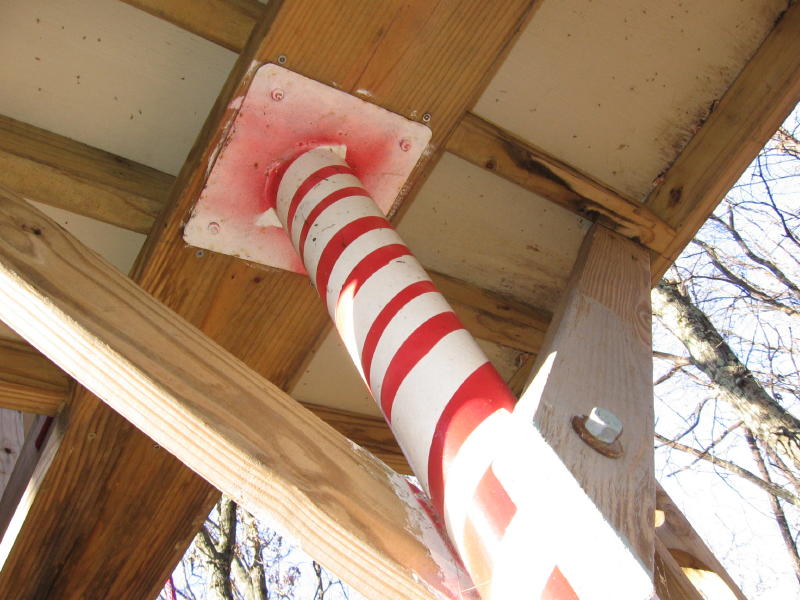 Steel post supporting the tower.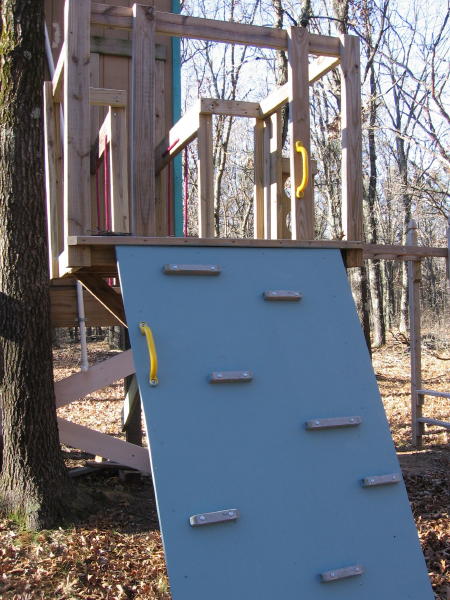 Climbing wall is plywood with plastic 2x2 "twinkies" bolted on.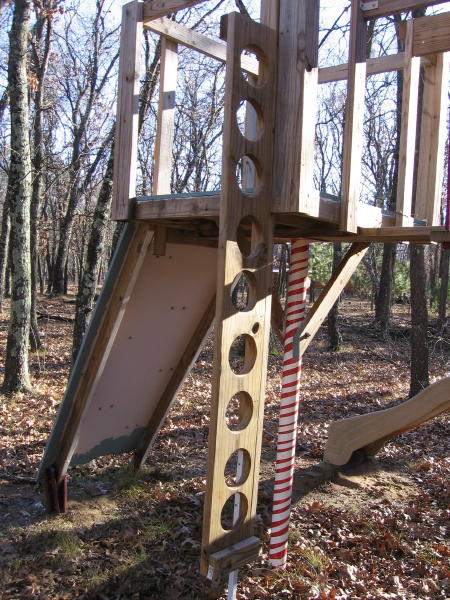 Another climbing ladder made from a 2x8 with round holes.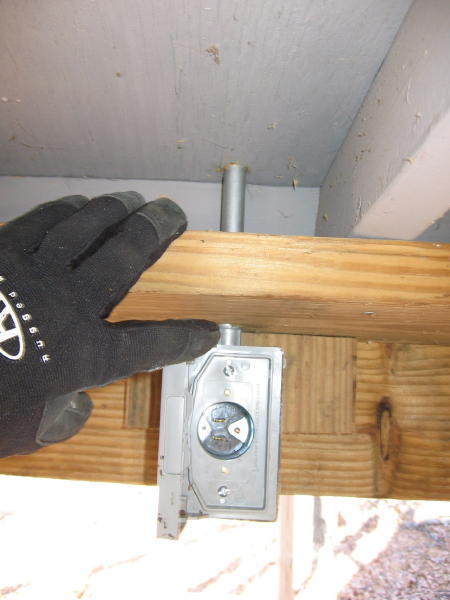 Electricity is fed by an extension cord plugged in to the reverse outlet below the treehouse connected to a duplex GFCI outlet inside. This has cured the pinched extension cord through the door problem.
Chris - 12/5/2010