The Adams Family Tree House - Page 2
A "two tree" Treehouse
April 2006 The treehouse survived the winter. No damage from wind, rain or snow. Today the steel roof gets installed. We got out the tall ladders and circular saw with a metal cutting abrasive blade. With my brother on the ladder and me standing on the second floor, the roof took about two hours to finish.
June 2006 For the walls I am using cedar faced plywood siding that I recovered from a house that was being renovated. The upstairs sliding window is from Menard's clearance for $20. Most of the siding got hung this weekend.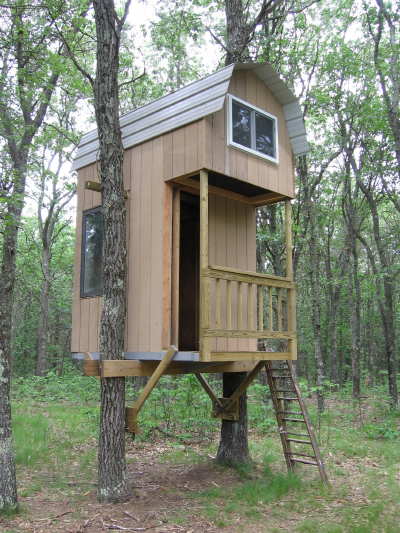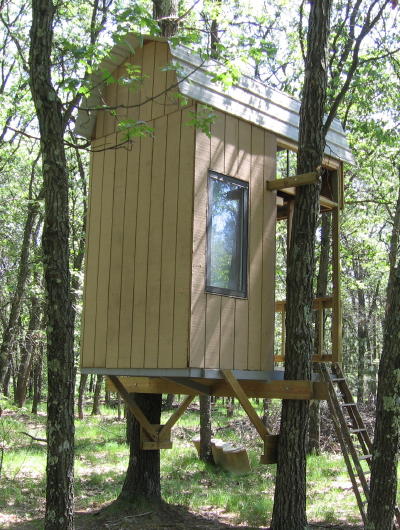 July 2006 I garbage-picked a cool 17 inch 3 panel solid wood closet door. This was my first time building a door frame, drilling and installing a doorknob, hanging, leveling and shimming a door... Also painting a panel door. More work than I thought, but worth the effort. The doorway is tall enough that I won't bump my head. Also added a slide from a garage sale and spindles on the front railing.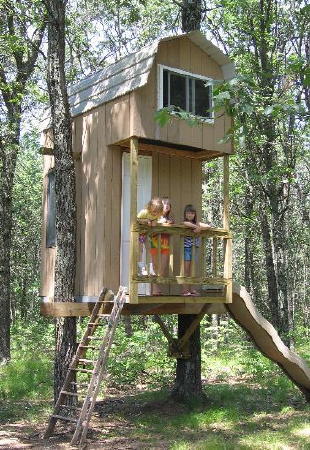 Now that basic structure is finished, the girls are scared to spend much time in it. The slight rocking and the sight of the upper beam going sliding side to side thru the slots in the wall is creeping them out. So, now I am considering adding legs to the tree house.